Winter holidays in the Dolomites
let yourself be enchanted
Winter is a very special time here in South Tyrol with snow-covered forests, meadows and mountains. Gorgeous, unique winter landscapes without disturbing lifts and railways. Nature in almost original condition. Our secret? Sustainable tourism, away from the hustle and bustle, après ski and hectic pace. If you come to the Villnösser Dolomites, you will enjoy peace and recharge your batteries during winter activities in the snow.
Whether winter hiking, sledding, ice skating, ski touring, cross-country skiing or the classic ski holiday in South Tyrol – with us everything is possible! Enjoy the beautiful winter landscape and return to rustic-cozy alpine huts, some of which can only be reached on foot.
Of course, we advise you in choosing your activities: Ranuimüller's package weeks in winter offer a great program, such as guided snowshoe hikes, sunset tours, hut magic with moonlight toboggans and ski safaris to larger ski resorts in the area.
In the evening, everything is all about winter wellness: Warm up in our sauna area, because targeted sweat cures not only strengthen the immune system, but are also ideal as a prevention against muscle soreness.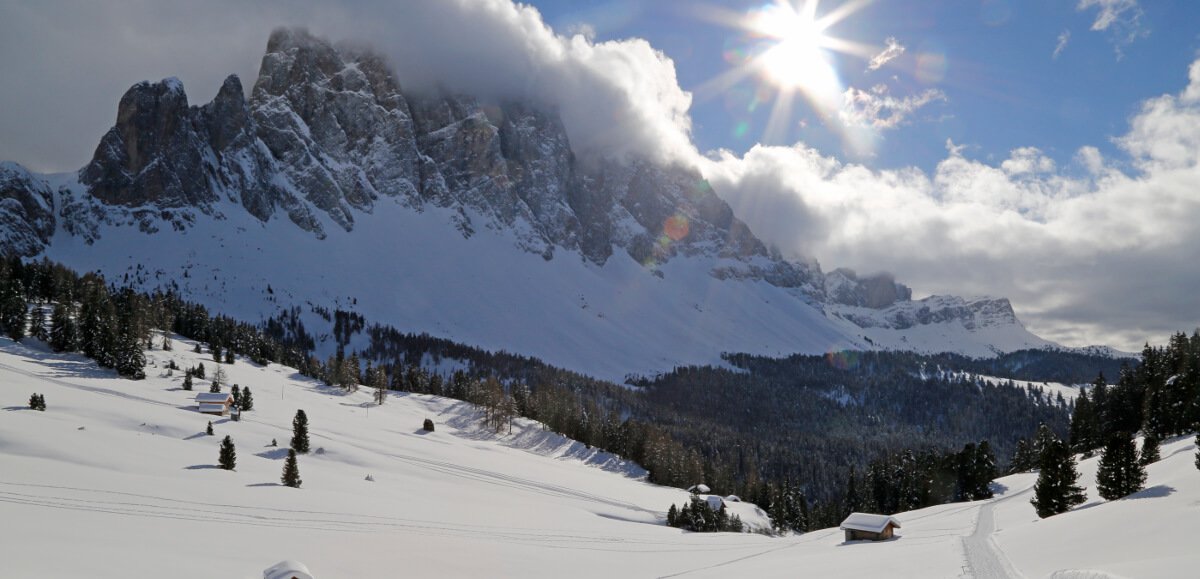 Snowshoe & Winter Hiking
Walk through the snowy winter landscape
Our valley of the paths invites with its extensive network of hiking trails not only in the summer to extensive discovery tours: a snowshoe hike through the snowy landscape of the Dolomites is an experience that we warmly recommend to each of our guests. Let the silence of nature take over you and you will notice how the stress of everyday life slowly falls away from you. And best of all, snow-shoeing is something everyone can do! All you need is warm, waterproof clothing, hiking poles and a pair of snowshoes that you can easily borrow from us in the village. Depending on your mood, the hikes lead along groomed paths or you trudge through the deep snow. It's best to be accompanied by experienced guides or to join a hiking group.
Discover guided snowshoeing in Val di Funes: guided snowshoe hikes
On cleared winter hiking trails you can walk in the clear mountain air to the Villnöss alpine huts: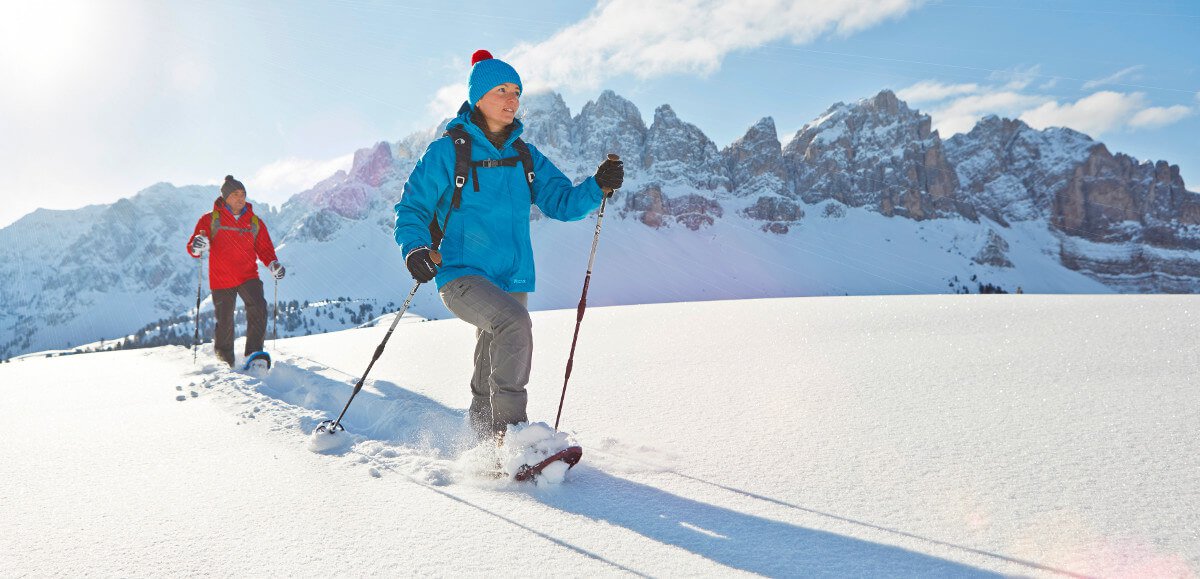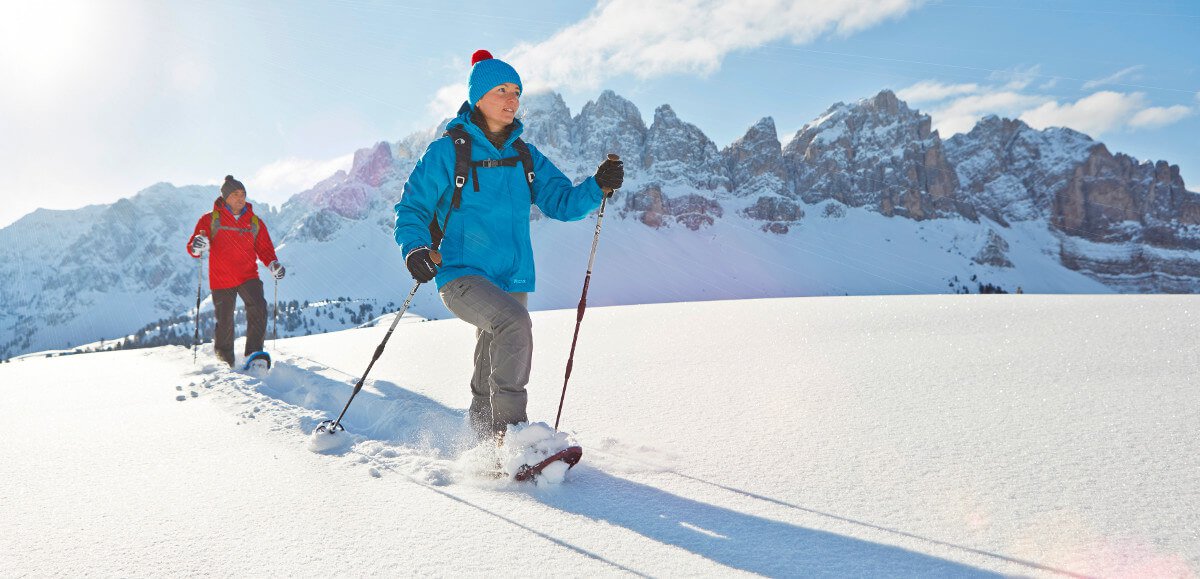 On cleared winter hiking trails you can walk in the clear mountain air to the Villnöss alpine huts:

Skiing in the Eisack valley
Your skiing holiday in South Tyrol
Ski tours in Villnöss
In search of the origin
With skinned skis up to the mountain, enjoying the dreamlike panoramas and racing through the powder snow back into the valley: What was practiced 100 years ago due to the lack of lift facilities is today a popular alternative to classic alpine skiing. Ski touring is extremely popular and will be an unforgettable experience in our Dolomites valley Villnöss. In about 2.5 hours tours can be made to the Zendleser Kofel, the Bronsoijoch or the Gabler. Absolutely necessary are a good equipment and condition as well as alpine experience.
We will gladly help you to work out the perfect tour for you. In the Tourist Association Villnöss valley you will get information about suitable routes for the deep snow experience!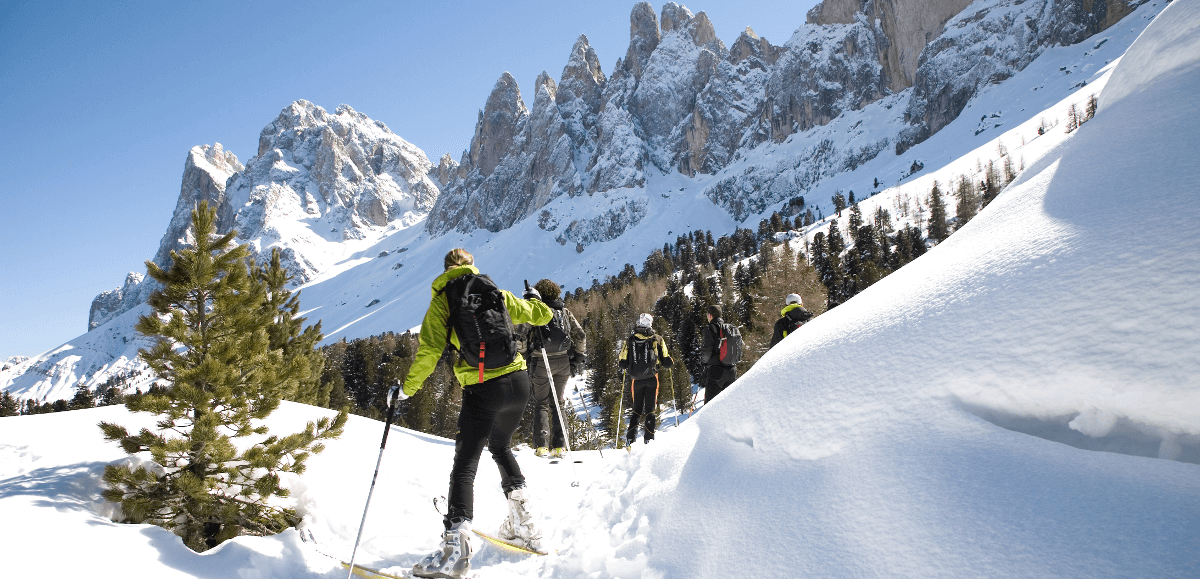 Tobogganing
With the sled on the way
Not only children love a joyful toboggan ride: borrow a sled and organize a toboggan ride that will make your winter holiday in the Dolomites unforgettable! Put on warm clothes, go up the mountain and have fun down to the valley. And do not forget your camera, because the spectacular mountain scenery is the perfect backdrop for beautiful family photos! In Villnöss alone there are numerous natural runs to choose from: after about 1.5 hours' walk you can reach, for example, the Geisler Alm, from where you can either sledge to Ranui or Zans. Our guests have a free toboggan rental available directly at the hotel.
More toboggan runs in Villnöss: 
Natural toboggan run Gampenalm-Ranui, 7 km, intermediate
Natural toboggan run Geisleralm-Ranui, 6 km, intermediate
Natural toboggan run St. Zenon-Zanseralm, 1 km, easy
Natural toboggan run Kaseril-Zanseralm, 2 km, easy
Natural toboggan run Dusleralm-Ranui, 3 km, intermediate

Ask for free
& without obligation